We tackle all three activities in this retreat!
Rancho Delicioso, home to Awaken Retreats, is a large eco-village, where we offer a weeklong retreat that includes all three of our favorite things: Surfing, Permaculture, and Yoga!
We are located on the Southern Nicoya Peninsula and have an abundance of fantastic surf beaches. The towns of Santa Teresa and Malpais are known as great surf towns. This area attracts surfers from around the world every year. 
In this retreat, surfing is only a part of it. We also integrate lessons on organic farming techniques, sustainable building, courses and practical lessons on permaculture and design. We will all spend time with the farm animals too – learning about life on the farm. In addition to these lessons, we have practical exercises and activities, such as raw chocolate making, archery, and aerial silk.
Each day, the group will participate in one or two yoga classes. And at the end of the day, those who still have the energy will take a trip to Montezuma, to experience the local nightlife. We are certain that this retreat, and the experience on our ranch, will be a life-changing experience. 
"Rancho Delicioso was a dream come true. I learned so much more than I ever expected and connected with people in such an amazing way that I will never forget"
In this particular retreat, surfing will be our #1 priority, as it should be! This means that you will miss some yoga classes. You will probably miss some permaculture classes too, and may even miss meals (you'll get them after, do not worry!). We are usually going to try to hit the waves for sunrise or sunset when they tend to be at their best (and least crowded). However, as always, this is dependent on the surf that mother nature gives us, plus the tides and weather. Expect to be flexible around timing!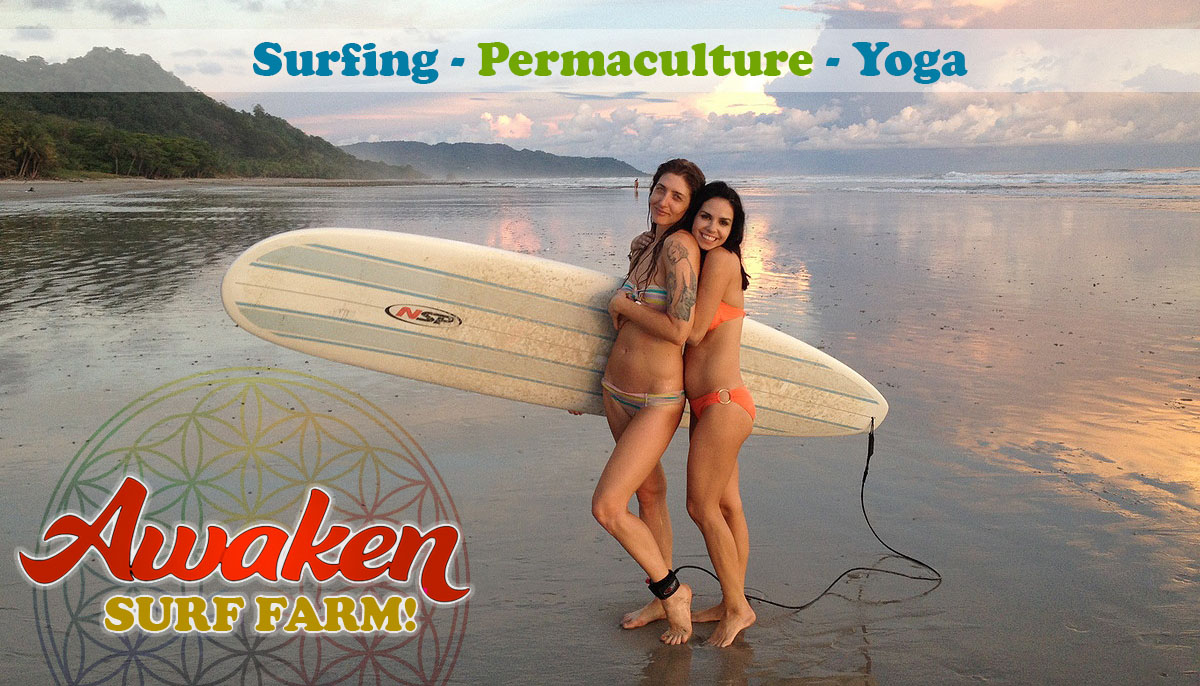 Where do we surf? 
Playa Grande

Reyes/Lajas

Playa Carmen

Playa Hermosa
For beginners, we would usually go to Playa Grande. If the waves here are no good, then we can take the group to Playa Carmen or Playa Hermosa. Thankfully, we are centrally located, so we are blessed with multiple locations, within a short distance. Depending on the group, and the relative skill levels will also influence where we travel to. If the group is fairly new, we will head to the regular beaches to learn. If the group is experienced, then we are more likely to go out on a 'surf-safari', to discover new spots. 
We work alongside our friends at both Young Vision and South Nicoya Surf. Depending on your skill level and the situation, sometimes you may go with the Rancho Delicioso owners and friends (we are a mix of beginners and intermediates. The price will include 5 surf trips, with transport, board, and lessons included. If you want to go more than that, it's an extra charge, depending on where you'd like to go.
Introduction to Permaculture Daily Workshops:
Our Introduction to permaculture course includes eight separate lessons, that range from 90 to 120 minutes in length. At the end of your stay, you will earn an "Introduction to Permaculture" certificate from Rancho Delicioso. The classes are laid out as follows:
The 'River Palace' is one of the most remarkable structures you will see. At over 70 feet tall, it is constructed above the convergence of three small river valleys. You access it from three individual elevated bridge walkways. The building itself has three floors. 
Keep in mind, this building is not your average hostel. There's no air conditioning, and it's very open, made mostly from natural materials. You will not get your own private bathroom. There's little privacy. Despite being a beautiful and grand structure, think of it as a dorm-type situation, although more like something that Tarzan and his family would be living in.
If this doesn't sound like something you would be interested in, there are three other options available to you:
Stay Off-Site: You are more than welcome to stay off-site, and come to the ranch every day for the retreat. People do this from time to time, for various reasons. It does work out to be the cheapest way to do the program.
Tent: You are free to bring your own tent and set it up on the farm. You'll still have use of our bathrooms and showers. This works well for those seeking privacy, especially couples. We recommend this as a dry-season option, unless your tent is really waterproof, as the rain can be very heavy!
Treehouse: A third option is to stay in Joseph's amazing treehouse. You will book this through  AirBnB. It usually has to be booked far in advance because it's so popular! Check it out here: Joseph's Treehouse.
More details about these accommodations are shown here: The River Palace.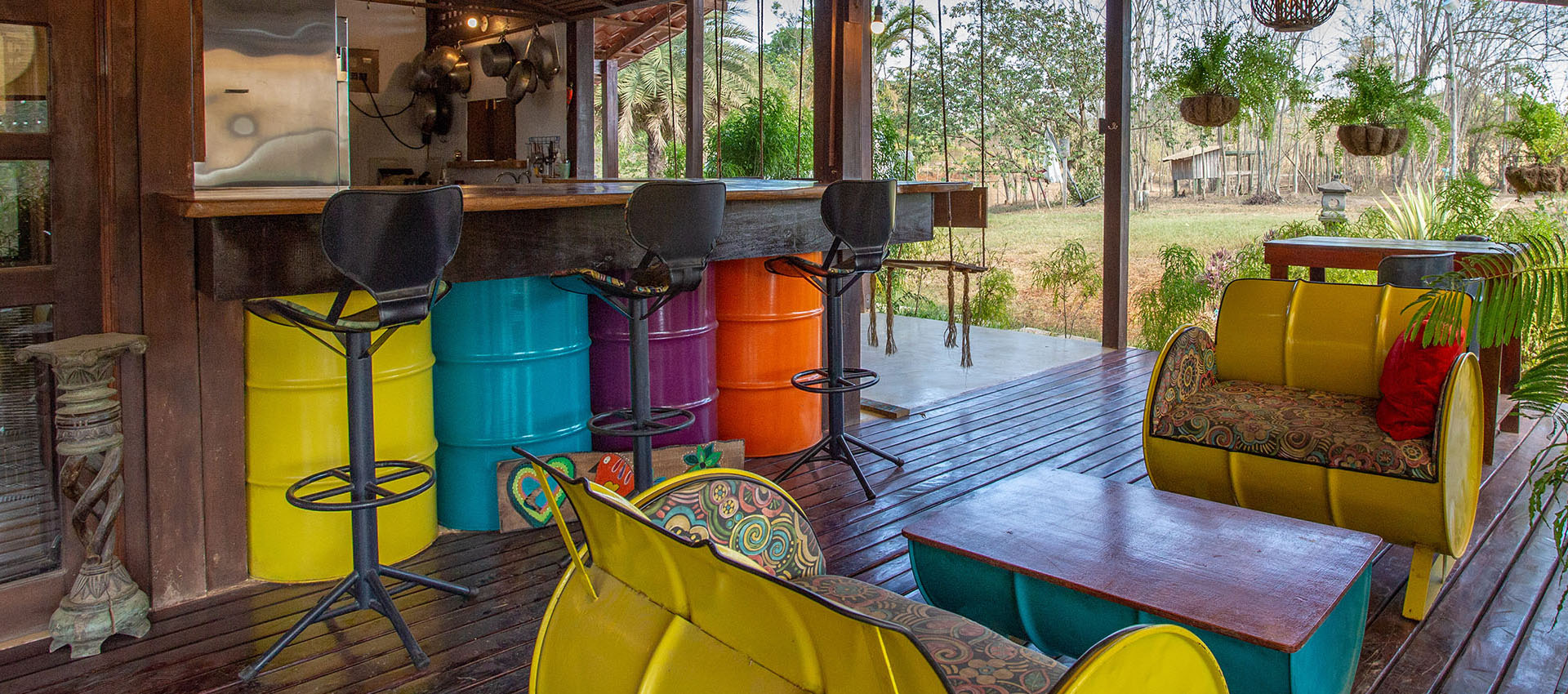 It's probably fairly obvious that we take pride in serving you delicious and amazing food.
The diet at Awaken is one with no red meat. It is mostly vegetarian, with the occasional inclusion of local organic chicken, or fresh seafood from our friends down in Cabuya. Simply put, we can cater to many diets. 
We try as hard as we can to source the ingredients come from our own farm, and most of it does, but not all. 
For the things that we cannot grow here, we work alongside organic suppliers on the mainland of Costa Rica. They usually supply us with things like carrots and onions that require a higher elevation than we possess here down by the beach! 
The food is not 100% organic but we do our best with the resources we have. Overall roughly 80% of the ingredients we use in the cooking are organic. Importantly, everything we grow on the farm is 100% organic and grown in accordance with permaculture practices.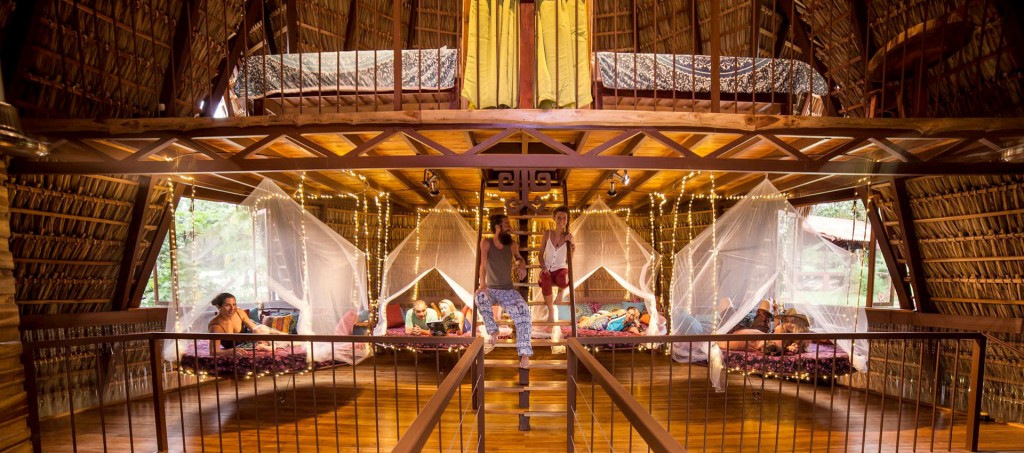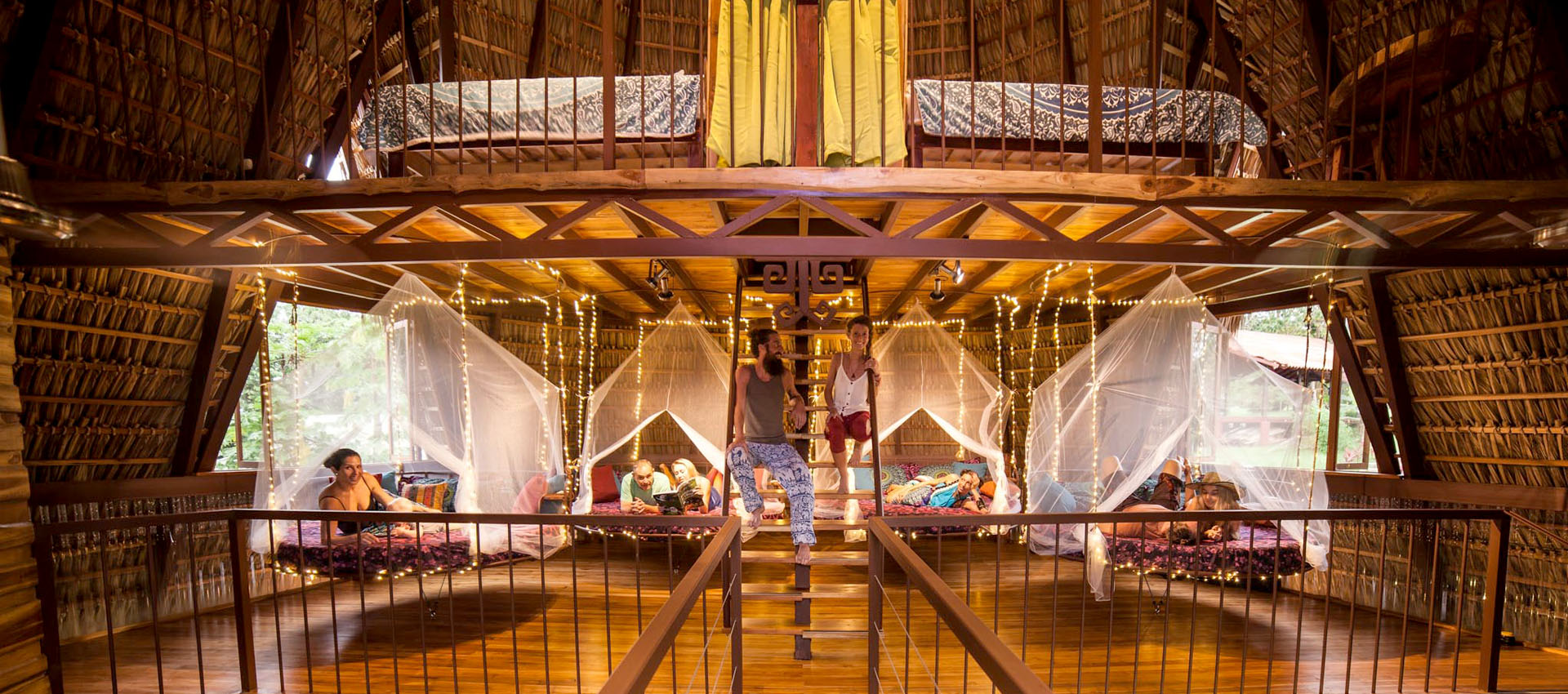 Rancho Delicioso, home to Awaken Retreats, is a 100-acre eco-village in the heart of the Nicoya Peninsula, on the Pacific Coast of Costa Rica. We are set between the stunning beachside surf towns of Montezuma and Santa Teresa/Malpais. Most of the land we have access to is for farming and wild spaces. In addition to the center of the farm which hosts the retreats, and volunteer program, we have many permanent resident properties.
There are plenty of wild animals in the surrounding areas, along with our domesticated horses, chickens, ducks, goats, sheep, fish ponds, and more conventional dogs and cats!
Our cultivated areas include large fruit orchards, tropical greenhouses, and hydroponic setups. A lot of effort here goes into soil quality, and we seek to improve it as best we can. We are constantly working towards the goal of no-till agriculture.
Rancho Delicioso is an incredibly active and vibrant place. We have so many projects on the go. Without mentioning them all, we are experimenting with a variety of permaculture ideas, including treehouses, bio-char, food forests, water catchment and pond system, and beekeeping.100
During your retreat, we offer many different activities, with most being included in the total cost. In all honesty, we set a busy schedule, and if you participate in everything, there is not a lot of time for relaxation! We do this because we are passionate about these activities and our way of life. For those of you who love trying new things, and immersing yourself in an experience, you will love this retreat. We also want everyone to understand, participation is voluntary. If you find that you feel too busy, you are more than welcome to relax in a hammock, meditate in our treehouse, or take long walks through the jungle. It's your retreat. 
Prices and Booking information
| | | |
| --- | --- | --- |
| Tent or Offsite | US$880.44 |   |
| Single Sofa Bed | US$1059.66 | (up to 2 available) |
| Nest Bed, Shared | US$1059.69 each | each, shared bed |
| Nest Bed, Single | US$1166.16 | (up to 6 available) |
| Private Loft, Shared | US$1166.19 | each, shared bed |
| Private Loft | US$1592.16 | Single occupancy. 2 available. |
The Permaculture Surg and Yoga Program prices depend on your accommodations. We have a few options below:
[rs_programs category="PSP" table show_date show_register_link width: 400;]
Discounts:
Book 4 months early: 5% off.
Green Season Discount (May-Nov): 12% off.
Payment and Deposit:
Once you have decided that you're ready to take the leap and book with us, we will send a Paypal request for 50% of your balance. This will serve as a non-refundable deposit. Then, you must have paid the remaining balance two weeks prior to arriving at the retreat. We will send a request for this as well. If you would prefer to pay in cash upon arrival, sometimes we can arrange this. 
Cancellation Policy: 
If the unfortunate happens and you are not able to attend, or you decide you no longer want to come, we are able to apply your deposit to a future retreat (not including the 20% rescheduling fee). We are unable to offer refunds, as our retreats are popular, and require a lot of organizing. This includes things out of people's control, such as weather. 
We recommend that once you have booked with us, you also purchase travel insurance, which will protect you against such events (make sure you read and understand what is covered in your specific policy). 
Liability Release Form:
When you arrive, we require that you sign our standard liability release form. We would appreciate it if you read and understood it before arriving! You can find it here: RD Liability Release Form. 
Frequently Asked Questions:
Bugs/Insects: – Yes. We have bugs. Lot's of them! We are in a tropical rainforest, so this is just part of the wonderfully biodiverse ecosystem we live in! Thankfully, we do not have a lot of mosquitoes at the farm (coincidentally, we do not have Zika Virus in this part of the country). Occasionally, the mosquitoes will come and pick out the guest with the sweetest blood, and there is no way of knowing until you get here. For this reason, we suggest people bring bug spray – just in case!
Donations – Man of our guests wish to help the local community. We ask that anyone who wants to do this, bring some navy blue pants or skirts, and white button-down shirts. These will be donated to the nearby public school for kids who can't afford uniforms. You can usually find these things at your local thrift store!
Permaculture Certificate – We have 8 introductory permaculture courses here at the ranch. For those who do complete all eight courses during their stay, we provide you with your very own "Introduction to Permaculture" certificate (this doesn't allow you to teach permaculture, however, it is a great first step on your permaculture journey!). Bear in mind, if you're taking the Permaculture and Surf Program, you will likely miss out on some of the courses while you're surfing – therefore won't complete our introductory course!
Travel to Rancho Delicioso – You will need to book your own travel arrangements to get here. Instructions and options are shown here: travel help.